Gregg Levoy, Author of Callings and Vital Signs:
Published in 1997, Callings was the first book to examine the many kinds of "calls" we receive. It is a passionate look at our natural search for authenticity.
For example, recall a time when you were called to do something like making a career change, return to school, or leave a relationship. Maybe you felt the call to be something more … more creative, authentic, or more confident as a leader.
"SELF-REFLECTION IS CRITICAL TO THE ABILITY TO DISCERN WHAT YOU ARE CALLED TO DO. IT'S THE MASTER SKILL."
We all have moments when we are just out of sorts. We may find ourselves…
Unsure of what I want to do with my life, but I know I want a successful and fulfilling career
Wanting more clarity on how to get from where I am … to there
Questioning my beliefs or decisions made or should make
Feeling bored or restless at work or in my personal life
Wondering why the same "bad" things happen to me – like getting fired from multiple jobs, attracting "the same type" of partner
"IT'S IMPORTANT IN LIFE TO PURSUE THE ONE PROBLEM YOU WERE BORN TO UNDERSTAND." Alberto Moravia
My interview with Gregg will be of benefit if you:
Want to create a life that has power and passion – be it personal or professional
Feel like you are avoiding a call of transition
Want to hone your skills of intuition and discernment
Have a loved one who has lost their passion for life
Desire to enhance your sense of vitality
Highlights from my interview with Gregg:
Gregg's personal story that inspired him to research and write Callings
How to recognize the different forms and channels through which we receive calls
What is a calling? How do you follow it?
How to create a life that really belongs to you – a life that isn't a hand-me-down or knock-off but really has some power and passion to it.
Tips on creating a life that has purpose and direction and utilizes your skills and talents
Callings come in the form of intuition, dreams, body symptoms, synchronicity, the section of the book store you always go to first, a song lyric you can't get out of your head for weeks. They are calls from the deep self that tells us to pay attention to something … in a sense they are the fire drills for the bigger ones. We almost always ignore them.
The struggle between passion and security
The relationship between "calling" and "purpose"
The most important advice for cultivating a self-reflective practice
Listen to my interview with Gregg by clicking on the green arrow:
Or, download and subscribe to Inspired Wisdom on iTunes and Google Play:


Bio and Links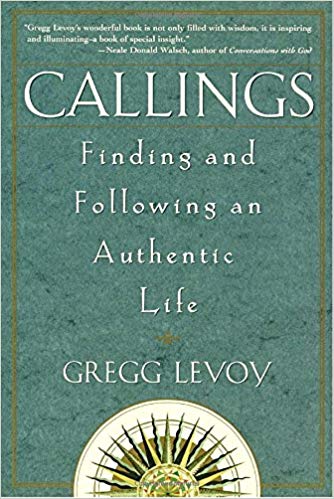 Gregg Levoy is the author of Vital Signs: The Nature and Nurture of Passion (Penguin), and Callings: Finding and Following An Authentic Life (Random House) –rated among the "Top 20 Career Publications" by the Workforce Information Group and a text in various graduate programs in Management and Organizational Leadership.
A former adjunct professor of journalism at the University of New Mexico, Gregg has written for the New York Times Magazine, Washington Post, Psychology Today, Fast Company, Omni, and many others, as well as for corporate and television projects.
He is a lecturer and seminar leader in the business, educational, governmental, faith-based, and human-potential arenas. He has keynoted and presented workshops at: The Smithsonian, BP, EPA Microsoft, AE, several universities, Esalen Institute, and many others. Gregg is also a frequent media guest on ABC-TV, CNN, NPR, PBS to name a few.
Links:
Inspired Wisdom
Cynder Niemela, MA, MBA is an award-winning author and internationally recognized expert in executive coaching and developing global teams. As a result of growing up in the Middle East and Europe, Cynder leverages her international experience working in the Middle East as one of a few women permitted to work in Saudi Arabia. First, as a marine biologist followed by years of developing leaders and teams for Saudi-ARAMCO. Mission: Interview 100 people from 100 countries who are working with heart and mind for positive social impact.